Product Information
DkimX
is an add-on for
MS Exchange Server 2013/2016/2019
which supports DKIM-signing of outgoing messages and verification of incoming messages by using the following message authentication mechanisms: SPF, DKIM, DMARC.
Features:
DKIM Signer:

Supports rule-based message processing for outgoing messages in an MS Exchange Server environment.
Supports any number of e-mail domains.

Verifier:

SPF (RFC 7208) verification
DMARC (RFC 7489) verification
DMARC report generator:

Full support for DMARC aggregate reports, including support for intraday report generation periods.
Full support for DMARC failure reports.
Support for hosting environments: distinct settings depending on recipient domains.

The verification results are published by adding Authentication-Results header fields (RFC 7601) and optionally custom header fields to evaluated messages.

Administration by using the DkimX Management Shell (PowerShell-based command line interface) or DkimX Management Console (GUI implemented as an MMC 3.0 Snap-In).
Centralized management of your DkimX environment can optionally be implemented by configuring Inter-Server-Communication (ISC) between your DkimX instances.
Supports easy backup and restore of configuration data.
Monitoring and troubleshooting:

Message logs (DKIM signer message log, verifier message log)
Application-specific event logs
Performance counters

Low resource usage, excellent performance and high scalability of the processing engines, whose implementations are based on asynchronous tasks.
Supported OS:
Windows Server 2012 (R2)
Windows Server 2016
Windows Server 2019 (Server Core & Desktop Experience)
Supported E-mail Servers:
MS Exchange Server 2013 (CU21 or later)
MS Exchange Server 2016 (CU11 or later)
MS Exchange Server 2019
Software Type:
Trialware (60 days)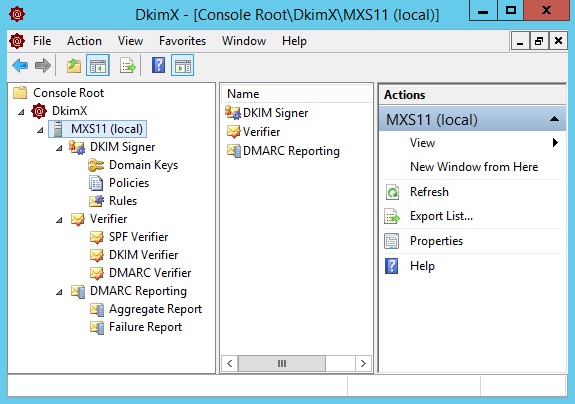 Show the license agreement (EULA)
File
Size
Content
DKIMX_v3.51.351.MSI
2.84 MB

DkimX 3.51 Build 351 -/- Release Date: 2022-03-01
MSI Installation Package for 64-bit Windows

DKIMX_v3.51.351.CHM
165 KB

Documentation (HTML Help) only. This file is included in the product distribution file. You will download this file in case that you want to take a look at the documentation before installing the product.
Note: If you download the documentation separately, you must unblock the file after downloading it.
Uninstall Instructions
DkimX can be uninstalled by:
Open the MS Windows Control Panel
Select 'Uninstall a Program'
Find DkimX in the list of programs and double click on it
Click the 'Uninstall' button in the DkimX Uninstall window