| | | |
| --- | --- | --- |
| | DisclaimIt 4.8 | |
Product Information
DisclaimIt 4.8
is a server-based message processing tool for adding disclaimers, banners and signatures to e-mail messages. It can be installed and used in an
MS Exchange 2007/2010
environment.
Licenses for DisclaimIt 1.x, 2.x or 3.x are not valid for DisclaimIt 4.8 and must be upgraded to DisclaimIt 4.x licenses. Please look here for more information.
Features:
Multithreaded processing engine which provides excellent performance and high scalability.
Supports rule-based message processing for internal, outgoing and incoming messages in an MS Exchange 2007/2010 environment.
MS Exchange 2007/2010 transport rules are used for conditional processing of messages.
AD attributes of originators can be dynamically included into the text to be added to messages to implement server-based user signatures.
Supports processing of messages being of any body format: rich text, plain text and HTML.
Supports attachments to be added to messages.
Supports automatically generated vCards to be added to messages.
Supports inline image files in HTML text to add.
Supports inserting text before the replied or forwarded text of a message.
Supports dynamic inclusion of text files and message properties into the text to be added to messages.
Supports extensive and configurable trace logging to file or Event Log for diagnostic purposes.
Supports optional message logging for diagnostic purposes.
Local or remote administration can be performed interactively using the DisclaimIt Manager, which is implemented as an MMC 3.0 Snap-In.
Supports easy backup and restore of configuration data.
Exposed performance counters allow for monitoring runtime parameters.
| | |
| --- | --- |
| Supported OS: | Windows Server 2003 with SP2 or later, Windows Server 2008, Windows Server 2008 R2 |
| Supported E-mail Servers: | MS Exchange Server 2007/2010 |
| Software Type: | Trialware (60 days) |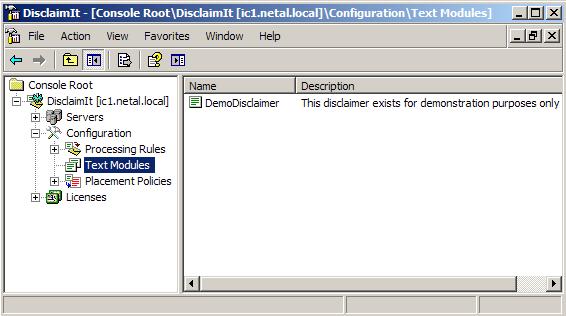 Show the license agreement (EULA)
File
Size
Content
DISCLAIMIT48.MSI
1.83 MB

DisclaimIt 4.8 Build 483 (v4.80.483)
MSI Installation Package for 64-bit Windows

DISCLAIMIT48.CHM
123 KB

Documentation (HTML Help) only. This file is included in the product distribution file. You will download this file in case that you want to take a look at the documentation before installing the product.
Note: If you download the documentation separately, you must unblock the file after downloading it: Right-click on the downloaded file and select the Properties menu item. Then click on the Unblock button.
Uninstall Instructions
DisclaimIt can be uninstalled by:
Open the MS Windows Control Panel
Select 'Uninstall a Program'
Find DisclaimIt in the list of programs and double click on it
Click the 'Uninstall' button in the DisclaimIt Uninstall window